Brick Lofts Is Pet-Friendly!
Finding pet-friendly apartments in Cleveland can be tough. Here at The Brick Lofts at Historic West Tech High we certainly understand how important it is to have our companions by our sides. That's why we are a pet-friendly community. We love your pets almost as much as you do.
Not only will your pet find a cozy place to call home, but they'll also be able to take advantage of many of the great amenities within and around our community. Call us today for more information on our pet policies and restrictions.
Pet Policy:
The Brick Lofts at Historic West Tech High allows dogs and cats
$375 non-refundable pet fee for 1st pet, $175 for 2nd pet
$40 per month per cat, $40 per month per dog
Only 2 pets per apartment permitted
Weight limit is under 100 lbs at full growth
A pet addendum and vet records are required
For further details on our breed restrictions, please contact our office staff.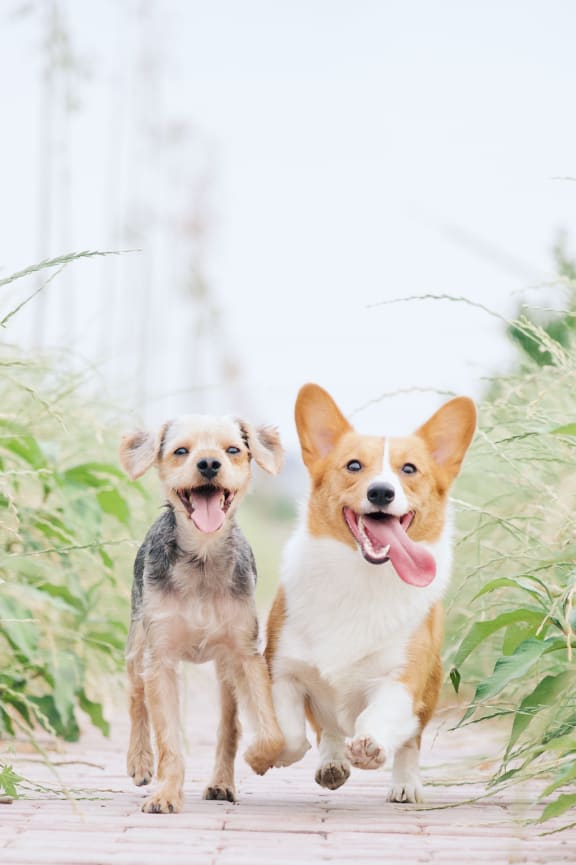 Testimonials
What I love about living here is the friendly staff, quiet neighbors, and convenience to downtown, Lakewood and Ohio City. I love my apartment features and the gym, which is why I just renewed my lease for another year. I also just love the location; I don't have to go far to get what I need. Thank you for all that you do! It doesn't go unappreciated!

- Anonymous
Thank you soooo much for everything, for giving me a place last year, making me welcome and comfortable and last but not least - you're amazing and loving patience with the process. It means so much!

- Happy previous resident
"Living at the Brick Lofts at West Tech was really great experience from day one! Manager Jordan, and her staff were incredible and worked hard to get me moved in quickly and made sure it was a smooth, easy process, with an exceptionally clean and tidy rental. The Brick Lofts offer great amenities for the residents, and they work hard to be sure the residents are taken care of and safe. I love that they have security on-site to keep an eye on the safety of residents, and the parking lots.

- Former tenant
I wanted to personally thank the Management staff at "The Brick Lofts" for everything they did for me during my time living there. Between Jordan and Sada, I couldn't of been more happy with how I was treated and especially how everything was ran from a housing standpoint. While I moved on and purchased a home and couldn't be more excited about it, I also will never forget the past year and half during my stay. I wish them all the well and I will personally recommend "The Brick Lofts" to anyone

- Anonymous
5 Star Review: Such a unique building to live in ....the management is great ...sadai is an awesome property mgr always willing to go above and beyond for the residents....Cory is great in the leasing office and the maintenance personnel is top notch ....great place to live

- Google Review